PlayFirst's Avenue Flo: Special Delivery Available For Download Tomorrow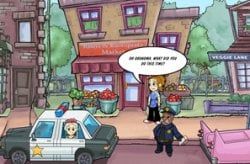 The sequel to last season's Avenue Flo has arrived for PC gamers and it's called Avenue Flo: Special Delivery. The game features the small-town heroine, Flo, from the popular Diner Dash series, taking on Diner Town with a number of puzzles and quirky adventures…just what casual gamers asked for.
Becky Ann Hughes, Director of Product Marketing for PlayFirst commented in the press release about Avenue Flo: Special Delivery, saying…
The game combines a mixture of cartoony characters from the Dash universe, including wacky characters such as Barb the Businesswoman from Cooking Dash 3 and Aunt Ethel from Wedding Dash.
Gamers eager to get in on the casual, puzzle-gaming action can do so beginning November 13th, tomorrow, for PC and Mac via digital download. To learn more about Avenue Flo: Special Delivery be sure to visit the Official Website.
Staff Writer at CinemaBlend.
Your Daily Blend of Entertainment News
Thank you for signing up to CinemaBlend. You will receive a verification email shortly.
There was a problem. Please refresh the page and try again.