This Popular Mobile Game Is Becoming A Movie, Get The Details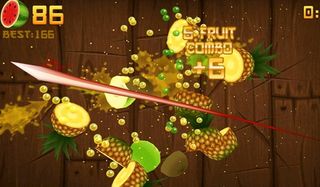 The popular mobile game Fruit Ninja is being turned into a live-action movie. We're going to give you a minute to let that fact sink in nice and deep.
According to a story from The Hollywood Reporter, the hugely popular Fruit Ninja is being turned into a family-friendly live-action silver screen romp. The project has Tripp Vinson tapped to produce with J.P. Lavin and Chad Damiani working on the script.
The announcement goes on to explain that Vinson is partnered with the team at Halfbrick Studios to make this movie magic come to life, and that the film will focus on a group of plucky ninjas who have "an inexplicable vendetta against produce." I can't make this stuff up, folks. This is for realsies.
If you haven't heard of the writing duo before, it's because they are relatively new to the scene. Apparently their work consists of an episode of Black List, as well as another in-development film, How to Survive a Garden Gnome Attack. Executive producers will be Sam White and Tara Farney and, at the moment, that's about all of the Hollywood insider information we've got to report.
In case this news has you scratching your head, there are a few factors that help it all make at least a little bit of sense. For starters, Fruit Ninja is one of the most successful mobile games on the planet, right up there with the likes of Angry Birds and Clash of Clans. It's been downloaded more than a billion times, so even folks who aren't traditional gamers know what Fruit Ninja is.
Secondly, you might have noticed that Angry Birds hit theaters this weekend and, as we all know, Hollywood loves to ask itself, "What's that guy doing? Is it making money? Then let's do that, too." We imagine a few more mobile game movie projects are being kicked around at this point, so don't expect Fruit Ninja to be the last.
But here's the one major issue we see with this news: We're about half a decade too late on this. Everybody knows what Angry Birds and Fruit Ninja are, but do those same people still play those games. More importantly, are they even remotely interested in a film based on the properties, especially if it's live-action?
We're not sure when the ball got rolling on this, but it seems like the window to release a Fruit Ninja movie may have closed already. We won't have opening box office figures until sometime tomorrow, so we aren't sure yet how well Angry Birds is doing at the theater. We do know that critics weren't too impressed, however, despite the movie having a dynamite voice cast. If Angry Birds bombs, that means Fruit Ninja's chances of being a success drop, too.
We'll just have to wait and see how this all plays out. In the meantime, feel free to let us know in the comments what mobile games you think would make a legitimately entertaining movie.
Staff Writer for CinemaBlend.
Your Daily Blend of Entertainment News
Thank you for signing up to CinemaBlend. You will receive a verification email shortly.
There was a problem. Please refresh the page and try again.