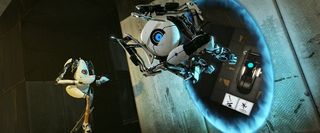 Valve Software confirmed details on the second Portal 2 DLC pack today. This free add-on, entitled "Perpetual Testing Initiative," will enable PC and Mac players to design their own Aperture Science trials for single-player and co-op.
"The 'Perpetual Testing Initiative' allows players to easily create, share, and play Portal 2 puzzles. The Initiative comes with a simplified puzzle maker that allows that creation of mind-bending puzzles without ever leaving the game," says Valve.
Amateur creators will be able to publish maps to the Steam Workshop. The Workshop is an online hub where players can browse and vote on other user-created puzzles. Any maps you pick through this service will be automatically downloaded and installed to your game for immediate play.
Valve first announced this DLC way back in October, right after they released the "Peer Review" add-on. We just recently passed the one-year anniversary for the game's release. Maybe it's for the best that they're only releasing the DLC on PC and Mac; I get the feeling console gamers have already traded their copies in by now.
"Perpetual Testing" will arrive on May 8th. For the first look at this new DLC, watch GameTrailers TV tonight. GTTV will be premiering the trailer for "Perpetual."
Your Daily Blend of Entertainment News
Staff Writer at CinemaBlend.