Postal III Getting Ready To Debut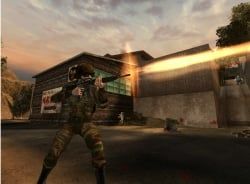 Postal was one of those games that kicked you in the pants and never stopped kicking. Those crazy folk at Running With Scissors have issued a press release stating what console Postal III will appear on, and when it will be released. The game that took the video game world by storm will be running on Half Life 2's game engine, and featuring some psyche altering experiences.
While currently in development for the Xbox 360 and PC systems, Postal III will employ the Source engine (the same technology Valve created to drive Half-Life 2) to deliver a new and advanced technical level of social satire and politically incorrect virtual violence. The Postal series originated in 1997, and CEO of Running With Scissors, Vince Desi, had these comments to share, "...while the franchise has grown into an international computer game sensation during that time, it has always been our goal to bring it to the videogame console marketplace. For many years I've been asked by gamers around the world when POSTAL will appear on console. I'm so proud to be able to answer our fans' prayers."
The press release states that Postal III will include motion-captured performances by a wide array of celebrities – from film stars to Playboy Playmates – as well as a storyline that offers gamers vast latitude in terms of their behavior. Whether that still includes peeing on people faces, like in Postal II, the PR didn't say. However, Vince Desi did state that, "We've always maintained since publishing the original POSTAL that the game is only as violent as the player wants it to be and we're committed to expanding this unique form of gameplay in this next addition to the ongoing storyline,"
In an interview I conducted with Vince Desi and Steve Wik earlier in the year, Steve mentioned that "...POSTAL 2 had many unique features and we want to build on them. The biggest mistake we made with POSTAL 2 was having too much gameplay reliant upon the player deciding to experiment with things and finding it on their own. The people that did it loved it, the people who didn't kind of missed out on much of the fun. So this time we're going to make sure and rub everyone's nose in the gameplay so they can't miss it! Especially reviewers!"
But how will the third Postal fare in today's brutal gaming age, where consumers make or break development companies and publishers? That doesn't bother Mr. Desi one bit, in our interview he stated "I truly believe that, given the chance, POSTAL 3 on the Xbox 360 will be a phenomenon. The audience is more mature today and it requires a certain amount of intelligence to play and enjoy POSTAL. Once everyone, from MS to reviewers to gamers and parents (who love to play POSTAL now) see what RWS and POSTAL is really all about, I predict a new wave in gaming styles." Well, only time will tell, as Postal III will be available for PC and Xbox 360 in 2008.
Staff Writer at CinemaBlend.
Your Daily Blend of Entertainment News
Thank you for signing up to CinemaBlend. You will receive a verification email shortly.
There was a problem. Please refresh the page and try again.