RAGE Launches On Mac Without Multiplayer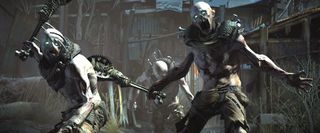 id Software's post-apocalyptic shooter RAGE is now playable on the Mac. The Mac port, published by Aspyr, is available through the App Sotre, GameAgent.com, and other leading digital shops.
The RAGE: Campaign Edition features the full single-player campaign featured in the PS3, Xbox 360 and PC editions. Modern civilization on Earth has been all but wiped out by a massive asteroid. The player is one of the few lucky souls who was able to ride out the cataclysm in an underground cryogenic pod. He resurfaces to find a harsh wasteland lorded over by bandits and mutants. To make matters worse, a mysterious army known as the Authority takes a sudden interest in him.
The extras from RAGE's Anarchy Edition are also included in this version. Your journey through the wasteland will be made easier by a Double Barrel Shotgun, the Rat Rod Buggy, Fists of RAGE and Crimson Elite Armor. The Wasteland Sewers Missions will give you new optional adventures underneath the wastes.
RAGE on PS3, Xbox 360 and PC shipped with two multiplayer modes: Legends of the Wasteland and Road Rage. Legends was a series of two-player co-op missions, while Road Rage was a four-player race with heavily armed vehicles. Neither of these modes made it into the Mac version of RAGE, it seems.
If you're interested in grabbing the game, here are the system requirements:
Operating System: 10.7.2 (Lion)
CPU Processor: Intel Core 2 Duo (Dual-Core)
CPU Speed: 2.4 GHz
Memory: 4 GB RAM
Hard Disk Space: 25 GB
Video Card (ATI): Radeon HD 3870
Video Card (NVidia): Geforce 8800
Video Memory (VRam): 256MB
Peripherals: Macintosh mouse and keyboard
Before you decide to throw down money for the game, be sure to check out our review from the fall.
Staff Writer at CinemaBlend.
Your Daily Blend of Entertainment News
Thank you for signing up to CinemaBlend. You will receive a verification email shortly.
There was a problem. Please refresh the page and try again.