RISK: Factions Arrives On Facebook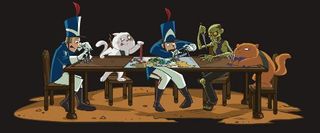 Hasbro's classic strategy series RISK is now available through Facebook. Electronic Arts has released a free-to-play, social network version of RISK: Factions today.
"RISK presents an ideal game design for Facebook Platform and we're thrilled to introduce our unique take on the RISK brand to millions of fans on Facebook," said Chip Lange, Senior Vice President and General Manager of the Hasbro Division at Electronic Arts. "The RISK: Factions game leverages the social tools on Facebook to deliver a deeper, more dynamic experience and combines them with turn-based combat that allows friends to challenge each other in a competitive game of RISK, making rubbing a friend's nose in defeat more meaningful than ever before. With EA's innovative approach in reimagining the RISK brand, we believe people will delight in the mix of player-versus-player action and our quirky take on the factions in the battle."
Like the original board game, Factions is a turn-based global war. Players must raise and deploy armies strategically in order to expand their empire. Combat is still settled with dice, just like real wars. Factions can be experienced in single-player or player-versus player modes.
Factions deviates from the original in a few important ways, though. There are now several factions - Human, Cats, Zombies - with unique units and strengths. Players also have the ability to customize their military base. Adding training grounds and factories to territories allow players to churn out new units. There are also additional social network-style features like gift-giving and cooperative building.
You can start playing Factions right away by visiting the game's Facebook homepage.
Image 1 of 7