Ragnarok Online: Valkyrie Uprising Available Now For iOS, Android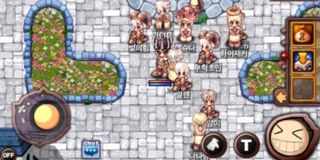 For those of you who enjoy all of the questing, looting and monster slaying of Ragnarok Online on the PC but wish you could take that MMO gameplay with you wherever you go, today is your lucky day. Gravity Interactive has announced that Ragnarok Online: Valkyrie Uprising is now available for both iOS and Android, free of charge, starting today.
Things are really heating up for the world of Ragnarok Online. The enhanced PC experience, Ragnarok Online 2, is in the midst of its beta and, today, fans can dive into Ragnarok Online: Valkyrie Uprising directly from their mobile devices.
We announced back in January that Gravity Interactive had plans to launch the free-to-play mobile version of their hit MMO sometime in February. That, clearly, did not happen. But it's better a little late than never, right?
In Valkyrie Uprising, players will be able to take on three different character classes in order to explore the world solo or with friends. All of the chatting, crafting and adventuring you would expect of an online MMO is present and accounted for, complete with enhanced features including improved skill swapping and a nifty Item Improvement system.
While the core game is free-to-play, you can also expect all of the usual bells and whistles being offered for real-world money from within the in-game store. Mostly cosmetic items and potions that will aid you in your adventure, nothing for sale is necessary to fully enjoy the game.
Sound like a good time? Then you can dive right in Valkyrie Uprising starting today from either the App Store (opens in new tab) or the Play Store.
Your Daily Blend of Entertainment News
Staff Writer for CinemaBlend.
Your Daily Blend of Entertainment News
Thank you for signing up to CinemaBlend. You will receive a verification email shortly.
There was a problem. Please refresh the page and try again.