Ravaged Free DLC Now Available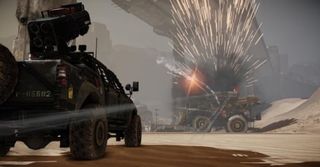 2 Dawn Games has released yet another DLC pack for Ravaged. Unlike a lot of other console titles out there, though, 2 Dawn has decided to give you the new DLC for free. So what does the content pack contain? Well, it contains new modes, new maps, new weapons and brand new ways to play in massive 32 player bouts.
As noted in the press release...
This is probably one of the huge advantages of servicing fans via digital distribution on PC. The non-cost of updating/patching the game only reaps massive benefits as opposed to going through the certification and patching process on consoles.
Anyway, 2 Dawn let loose some brand new screenshots to give gamers a small taste of what they can expect from the DLC, including a look at the massive dump truck rolling through the post apocalyptic wastelands. That looks pretty epic, to be honest.
If you haven't been all too interested in Ravaged before, perhaps with the addition of new DLC at a very delicious looking $9.99 from all the major digital distribution outlets just might change your mind.
You can learn more about the game by paying a visit to the Official Website.
DLC Features:
* Two New Game Modes: Team Deathmatch and Highjack Mode
* Team Deathmatch: Team Deathmatch enables 32 players to join teams of up to 16 with no resources to battle in the classic winner-take-all format gamers have loved for years.
* Highjack Mode: Hijack Mode offers players the chance to fight for control over the all-powerful Dump Truck, a massive mobile fortress.
* One New Vehicle: Available only in Highjack Mode, the Dump Truck becomes the ultimate power target, pitting players against each other as they scramble to control the monster power vehicle.
* Two New Weapons: The Chainsaw and Flamethrower
* The Chainsaw: Definitively rip enemies apart in close-quarter combat with the newly implemented chainsaw.
* The Flamethrower: Players blanket the immediate area with powerful flames, enabling them to decimate multiple enemies in their path
* Improved XP: Ravaged now displays accumulative Experience Points when they are awarded.
* Reduced Ammo: Reduced access to ammunition encourages players to scavenge for weapons and ammo to stay alive.
Image 1 of 16
Your Daily Blend of Entertainment News
Staff Writer at CinemaBlend.