Razer's BlackWidow Ultimate Stealth Edition Keyboard Now Available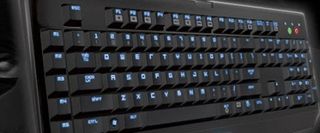 Following up on the news regarding their brand new gaming laptop, Razer wanted to ensure desktop gamers weren't forgotten by announcing a brand new Stealth edition of the mechanical Razer BlackWidow keyboard. The thing looks beastly and as Razer said themselves if the original BlackWidow was a hacking and slashing barbarian, the Ultimate Stealth Edition is a deadly, silent-as-the-night ninja.
Robert "RazerGuy" Krakoff, President, Razer USA laid down some words of encouragement to gamers who may be cautious about putting money into their ultimate gaming keyboard, saying…
With a lot of professional keyboards out there preventing many users from ghosting, limiting multiple key presses to one or two keys at a time, the BlackWidow allows up to six keys to be pressed at any given one time, meaning you can strafe, jump and switch weapons all at the same time. Your skills will no longer be limited by the hardware you use, but rather, the hardware will allow you to exercise your limitless skills.
A complete detailing of the Ultimate Stealth Edition BlackWidow keyboard can be found below. Gamers keen on learning more about Razer and their products can find out more at the Official Website.
Product Features:
• Full mechanical keys with 45g actuation force
• Extreme anti-ghosting
• Individually backlit keys with 5 levels of lighting
• 1000Hz Ultrapolling/1ms response time
• Programmable keys with on-the-fly macro recording
• Gaming mode option for deactivation of the Windows key
• 10 customizable software profiles with on-the-fly switching
• 5 additional macro keys
• Multi-media control keys
• Braided cable
• Audio-Out/Mic-In jack
• USB-passthrough
• Approx size (mm): 475(l) x 171(w) x 30(h)
• Weight: 1.5kg
Your Daily Blend of Entertainment News
Staff Writer at CinemaBlend.