Revenge of the Balloon-Headed Mexican Announced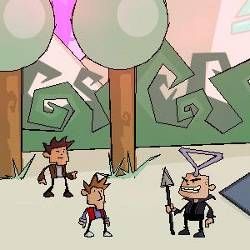 Today Zombie Cow Studios announced a series of episodic point-and-click adventure games. They've given the debut episode a pretty memorable title: Revenge of the Balloon-Headed Mexican.
Balloon-Headed Mexican stars Ben and Dan, a geek duo who also appeared in Zombie Cows' previous games Ben There, Dan That! and Time Gentlemen, Please!. Both of those games can be bought together through Steam for $4.99, by the way. You can also download Ben There, Dan That! for free through Zombie Cows' website.
"Things are going to be a little different for the guys this time around, which'll lead to some interesting new scenarios and puzzles," said Zombie Cow bossman Dan Marshall in the announcement. "For example, Dan and Ben can now be split up, allowing the player to flip between the two as and when they choose. So we've got these two separate branches going on within the first episode - which makes it feel very different to the previous games."
The announcement is short on details but points out that Balloon-Head Mexican will in fact include an antagonist with a balloon for a head. Will he actually be Mexican though? We shall see.
Staff Writer at CinemaBlend.
Your Daily Blend of Entertainment News
Thank you for signing up to CinemaBlend. You will receive a verification email shortly.
There was a problem. Please refresh the page and try again.