Robot Chicken Coming To Spore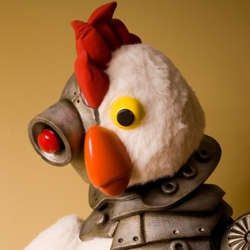 When the Galactic Adventures expansion for Spore is released next month, it will be accompanied by cybernetic poultry - a Robot Chicken, if you will. Downloadable content designed by the staff of the Adult Swim TV show will be available for the expansion at launch.
[[ br. ]] Galactic Adventures allows players to beam down to planets they discover in the space chase of Spore and perform a variety of missions. The Robot Chicken DLC is a series of missions said to feature "exploding poo, angry yetis, ruler yielding librarians, and more." It's all free, too.
The expansion comes with a toolset so players can create and share their own missions. The Robot Chicken missions sound completely bat-shit and should serve as a showcase of the adventure editor's versatility. The DLC and Galactic Adventures will be released digitally on June 23rd.
Staff Writer at CinemaBlend.
Your Daily Blend of Entertainment News
Thank you for signing up to CinemaBlend. You will receive a verification email shortly.
There was a problem. Please refresh the page and try again.