SOE Fan Faire Is No More, Long Live SOE LIVE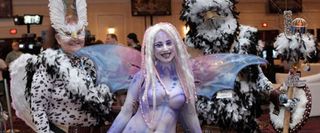 Sony Online Entertainment announced today that they're renaming their annual fan event from SOE Fan Faire to SOE Live. They also revealed the dates and location of this year's convention.
SOE Fan Faire began in Las Vegas in 2000. At the time, EverQuest was only a year old. The event was mostly inspired by EQ, hence the medieval-ish name. SOE felt that a name change was needed to reflect the larger selection of games that SOE now offers.
"SOE itself has grown and evolved a lot over the years. We now carry a lot of very diverse titles, in many genres," said SOE's Linda Carlson on the company blog. "In order to grow our annual event as well, we spent a great deal of time thinking about what it means, and how we can make it even more relevant and fun for players of all of our games, from EQ to DCUO to Free Realms to PlanetSide."
"We needed a new name to reflect the bigger picture, to make it inclusive of the many worlds SOE offers. Thus, 'SOE Live' was born, to reflect our evolution and chart a course for the future."
SOE LIVE will feature panel discussions with the company's development teams, tournaments, and several social events. The company will also make a few announcements about their games. For example, we'll probably find out more about PlanetSide 2. They'll no doubt drown attendees in free swag, too.
The convention will be held at Bally's in Las Vegas. It'll run from October 18th to the 21st.
Your Daily Blend of Entertainment News
Staff Writer at CinemaBlend.