Save The Arcade 2 Returns With $25,000 To Save An Arcade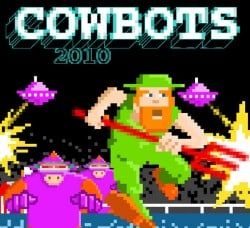 Stride…yes, Stride is launching their second campaign to save an arcade with up to $25,000 going to the (pre-selected) arcade of the gamer's choice. All that's required of the gaming community is to play an online game and donate the points toward saving the arcade.
Nipa Shah, Stride marketing manager commented in the press release, saying…
The three games nearing extinction and up for saving with a $25,000 donation are:
Ground Kontrol Classic Arcade, Portland, Oreg.
Rocky's Replay, Winter Park, Fla.
Arcade Infinity, Rowland Heights, Calif.
Uh, other than Ground Kontrol I've never heard of the other two and I've been around playing games for a while. Anyway, gamers interested in sparing the lives of these endangered gaming cabinets can do so by putting in a little time in the custom-made shooter, Cowbots 2010.
Whether you need more info on the above games or to get started in saving the arcades and blasting down maniacal robot cows, be sure to head over to the Official Save The Arcades Website.
Your Daily Blend of Entertainment News
Staff Writer at CinemaBlend.