Sci-Fighters Brings Four-Player Battles To Ouya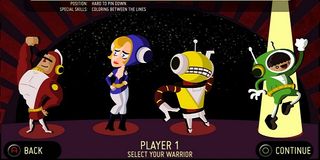 Now that the Ouya game console is (sort of) out in the wild, we're going to start seeing more and more games popping up on the little Android gaming console that could. If you're in the market for a multiplayer brawl, then you might want to check out Headup Games' latest offering, Sci-Fighters.
Funded through Kickstarter last year, the Ouya has started popping up in the wild, releasing so far to those who took part in the funding campaign. The console is expected to release worldwide this June for 100 bucks but, until then, early adopters still have some new games to look forward to.
Sci-Fighters is one such game, now available as a free-to-play title. Coming from Headup Games and FlukeDude, Sci-Fighters was originally designed as a Flash game and planned to release on the Xbox 360. The Ouya is getting its hands on the game, first, it turns out, bringing four-player battle arenas to one of the tiniest home consoles to ever hit the market.
Playing with up four living individuals or AI opponents, Sci-Fighters drops players into an arena that is "haunted" by a raging monster. Players must fend off the monster and one another in a no holds barred battle for survival. The game features seven weapons including flash grenades, ice cannons and even a potion that can turn the player into a monster. Three maps are currently available, giving everyone some bright and animated 2D environments to duke it out in.
While Sci-Fighters is 100 percent free, there is an in-game option for players to contribute money to the developers. If you get a few sessions of multiplayer fun out of the game and feel like throwing a few bucks in the direction of the folks who made the game, you're welcome to do so.
Your Daily Blend of Entertainment News
Staff Writer for CinemaBlend.
Your Daily Blend of Entertainment News
Thank you for signing up to CinemaBlend. You will receive a verification email shortly.
There was a problem. Please refresh the page and try again.