Security Breach Threatens Battlefield Heroes Beta Applicants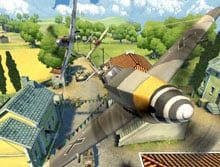 If you've signed up for the Battlefield Heroes beta you may need to check your email. It looks like there has been a security breach and QA Boss, the organization doing the registration, has sent out an email detailing the security problem.
We don't know if this will affect the beta at all, but it's still a pretty scary thing for foolhardy people that use only one password for all their accounts. At the very least you should keep important passwords – like for your bank account – as separate from throwaway passwords as you can. QA Boss is advising people that they should change their passwords on other accounts if they are similar to the Battlefield Heroes one.
The breach exposes forum user names, email address and encrypted passwords. It's always prudent to assume the encryption can be broken easily.
Staff Writer at CinemaBlend.
Your Daily Blend of Entertainment News
Thank you for signing up to CinemaBlend. You will receive a verification email shortly.
There was a problem. Please refresh the page and try again.