SevenCore, Futuristic Fusion-Core MMO Announced, Coming 2012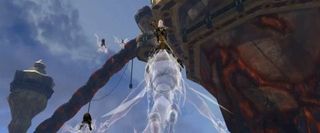 I'm a little giddy just thinking about Sevencore because it's one of those rare MMOs many gamers want but rarely get, almost on the line of Anarchy Online and NeoSteam. The upcoming free-to-play MMO from gPotato is a futuristic fusion-core game that combines elements of fantasy with mechanical science-fiction, as well as a robust character customization feature based heavily on a story-oriented gameplay design.
Developed by Noria, Sevencore seems to borrow a lot from Argo Online and Allods Online, giving gamers a vibrant fantasy feel amidst lots of technologically advanced mounts and weapons.
Nicolas Pajot, COO, Gala Networks Europe commented in the press release about the game, saying…
Right now the graphics looks like it's still in the early pre-alpha stage but I'm sure there will be some extra shaders and shadows added in before the game finally launches, so players who want that extra graphical edge will be able to experience it.
You can check out the debut gameplay trailer below along with a handful of new screenshots as well. You can keep up to date with all things SevenCore by visiting the Official Website.
Image 1 of 8
Your Daily Blend of Entertainment News
Staff Writer at CinemaBlend.