Shattered Horizon Introduces Single-Player Modes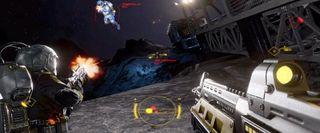 Futuremark Studios announced today that the zero-gravity first-person shooter, Shattered Horizon, has undergone a major update that introduces gamers to a slew of new single-player modes where players can hone their skills against bots.
Jaakko Haapasalo, Director of Futuremark Games Studio commented in the press release, saying…
It's true, newbs get slaughtered in the game and Shattered Horizon has a lot of interesting mechanics that can be manipulated to the advantage of a skilled player. Allowing the newbs to get a grasp of the gameplay and weapon mechanics without being mercilessly pwned like no tomorrow is a good way to expand the user base. The single-player bot matches will most definitely help a lot of new players adjust and advance enough in order to become competitive with the long-time players.
In addition to the new mode, Shattered Horizon is currently 50% off this week on Steam, so now would be a perfect time to try the game out if you have a DX10 or higher video card. You can check out the new features for the game below or head on over to the Official Website to learn more about Shattered Horizon.
Shattered Horizon Last Stand pack
- Play all game types in single player mode with bots.
- Choose the number of bots and set the difficulty level.
- Play the new Last Stand game mode which pits a team of four against waves of increasingly difficult bot enemies.
- Last Stand mode can be played with bot team mates in single player, or with friends in online co-op.
- Server hosts can optionally add and configure bots for multiplayer games.
- Bots will leave a multiplayer game to make room for real players, and rejoin to make up team numbers.
Your Daily Blend of Entertainment News
Staff Writer at CinemaBlend.