Sherwood Dungeon Adds New Allies, Pets And Mounts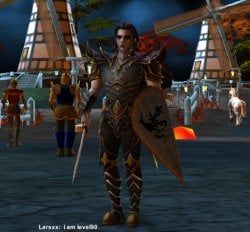 If you're the kind of curious adventurer who loves blasting through the forest screaming at the top of your lungs while mounted on a lion, fighting off hordes of goblins in the process, then you'll probably be excited about the new Sherwood Dungeon news regarding the ability to mount lions and wolves, as well as having new allies to accompany and new pets. News broke that Sherwood Dungeon, the browser-based MMORPG, has received a major update that's sure to draw in new and returning players.
As stated in the press release…
Gamers looking to pump up their adventure levels to boisterous new heights can acquire the services of Shadowfey, a descendant of the Picts, a fearsome Celtic tribe. The Shadowfey come in the form of either a Priestess or a Knight, however they are cash shop items so you'll need to buck over a few real life coins to have their services at your disposal.
You can learn more about Sherwood Dungeon and the new update, or try your hand at the game which happens to be free-to-play, by visiting the Official Website.
Staff Writer at CinemaBlend.
Your Daily Blend of Entertainment News
Thank you for signing up to CinemaBlend. You will receive a verification email shortly.
There was a problem. Please refresh the page and try again.