Sid Meier's Alpha Centauri, Crusader: No Remorse Now Available On GOG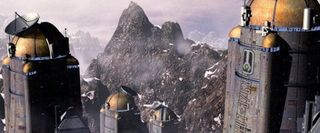 Digital retailer Good Old Games has added two games from EA's archive today. Sid Meier's Alpha Centauri and Crusader: No Remorse allow you to wreak havoc on the future in two very different ways.
Crusader: No Remorse is an isometric perspective shooter. You play a Silencer, an elite soldier under the command of the World Economic Consortium. After being betrayed by your employer and nearly killed, you join the Resistance and seek revenge. Armed with heavy weaponry including rocket launchers and spider bombs, you'll attack numerous WEC bases in an effort to bring the Consortium to their knees.
Alpha Centauri is a sort of successor to Civilization. The UN sends a ship with colonists to the planet Chiron. After the ship's captain is murdered, the colonists split into seven factions. The game itself is a turn-based strategy in which these seven factions vie for control of the planet. As with Civilization, there are a number of different paths to victory.
Both games cost $5.99 to download. Like all games on GOG, they've been optimized for use with Windows XP, Windows Vista, and Windows 7.
Your Daily Blend of Entertainment News
Staff Writer at CinemaBlend.