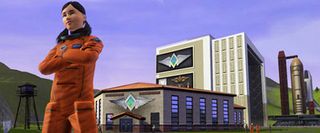 EA is making it extremely simple for players to try out The Sims 3. They've released a demo for the life simulator that you can play through your browser.
"You'll get to play 20 minutes of some of the best content The Sims have to offer in this gameplay teaser," says EA. "First, choose one of three classic character types as your Sim, and then send them off on their first adventure."
"Have your Sim explore an Egyptian pyramid, commune with ghosts in a haunted house, or let them party the night away with vampires. It's up to you to decide what your Sim does next! Content in the teaser includes elements from The Sims 3, The Sims 3 Late Night, The Sims 3 World Adventures, and more."
The Sims 3 lets you build a virtual person and customize their appearance and personality. You'll then be able to create their home, meet other Sims, and explore the game world. Expansion packs fleshed out the game with international travel, night clubs, mid-life crises, and more.
"Sims 3 appears to take Sims 2 and push it up a notch, adding new twists and turns to make the game almost new again, while also embracing all of the things that made the first two version so addicting in the first place," said our resident Sims expert Kelly West in her review of Sims 3.
To try out the browser-based demo, head here. As long as you've got an Internet connection and the latest versions of Flash and Java, you ought to be able to run it. You should check out the system requirements for the full game before you launch into the demo, though. No sense in getting addicted to a game that your computer won't be able to run.
Your Daily Blend of Entertainment News
Staff Writer at CinemaBlend.