The Sims 3 Seasons Screenshots Features A Sim For All Seasons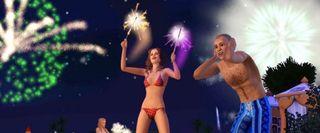 EA and Maxis released some new screenshots for the upcoming expansion pack for The Sims 3, sporting brand new content to monetize the living crap out of the Sims fanbase. The latest screenshots feature various new items and articles of clothing to match the seasonal expansion pack for the virtual, life-simulator.
The screenshots feature some fun-filled activities such as playing soccer or participating in a spring pie-eating contest, there's also a badly tanned dude standing around looking goofy and buff and of course there's a bit of fan-service with a bikini-clad Simmite celebrating as part of a festive summer activity.
The one thing I'm curious about – because I don't play The Sims anymore – is if you can still make fat people and anorexic people? All the promo shots for new expansion packs for Sims games seem to feature beautiful people with beautiful clothing in beautiful settings. But let's not forget that there are a lot of random trash Sims that get spawned...I'm talking about those hideous monstrosities with off-color skin and bad hair who used to always try to hit up on your Sim as if they needed a romance-handout. Yeah, you know who I'm talking about.
Anyway, the seasonal expansion pack for The Sims 3 is scheduled to launch after the Supernatural expansion, and just like with the Supernatural expansion, if you pre-order the The Sims 3 Seasons you'll gain access to the exclusive Ice Lounge Community Lot, which you can place anywhere in your Sims world.
The Sims 3 Seasons will officially launch on November 13th, 2012 for PC and Mac. If the udders on your wallet still have some juice left, you'll probably want to pick up the expansion this fall...or if you still have The Sims 2 and the knack for modding you can just mod that game for seasonal activities.
For more info feel free to pay a visit to the Official Sims Website.
Image 1 of 7
Your Daily Blend of Entertainment News
Staff Writer at CinemaBlend.