Skate 3 Soundtrack Revealed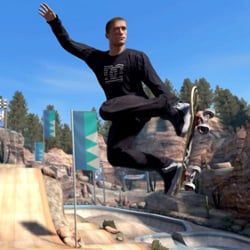 Skate 3 might take place in a fictional city but it'll sport 46 licensed tracks from real-world artists. Featured artists include Ol Dirty Bastard, The Beastie Boys, and Neil Diamond. Black Box revealed the full list this weekend. Check 'em out:
3 Inches Of Blood - "Battles And Brotherhood"
Agent Orange - "Bloodstains"
Animal Collective - "Summertime Clothes"
Beastie Boys - "Lee Majors Come Again"
Benjy Ferree - "Come to Me, Coming to Me"
Bim Sherman - "Lover's Leap"
Canned Heat - "Going Up The Country"
Chad VanGaalen - "Bare Feet On Wet Griptape"
Cheeseburger - "Comin' Home"
Clinic - "The Witch (Made to Measure)"
Dead Moon - "Diamonds In The Rough"
Del The Funky Homosapian - "Young Dre"
Dinosaur Jr. - "Almost Ready"
Dr. John - "Right Place, Wrong Time"
Dream Evil - "Immortal"
Hangar 18 - "Feet To Feet"
JAPANTHER - "The Gravy"
Johnny Thunders & The Heartbreakers - "Born To Lose"
Joy Division - "Disorder"
Junior Murvin - "Cool Out Son"
Kinski - "Punching Goodbye Out Front"
Love City - "The Other Side"
Mazarin - "For Energy Infinite"
Mobb Deep - "Put 'Em In Their Place"
Mudhoney - "I'm Now"
Neil Diamond - "Cracklin' Rosie"
Nihilist - "Metal And Mayhem"
No Age - "Sleeper Hold"
Ol Dirty Bastard - "Shimmy Shimmy Ya"
Pixies - "Debaser"
Q Lazarus - "Goodbye Horses"
Rob Sonic - "Brand New Vandals"
Sorcerers - "Drunk Skate Session"
Steel Panther - "Eyes Of A Panther"
The Demonics - "750-Four"
The Girls - "Where Wolves Drink"
The Goat - "Tantalizing"
The Greenhornes - "Good Times"
The Mighty Underdogs feat. MF Doom - "Gunfight"
The Misfits - "London Dungeon"
The Perceptionists - "Party Hard"
The Thermals - "Pillar Of Salt"
Them Crooked Vultures - "Dead End Friends"
Tommy McCook & The Supersonics - "Psychedelic Reggae"
White Rose Movement - "Cigarette Machine"
Young Jeezy feat. Kanye West - "Put On"
In addition to these songs, Skate 3 will have an original score by Del The Funky Homosapien, John King of the Dust Brothers, and Mark Mothersbaugh of Devo.
Staff Writer at CinemaBlend.
Your Daily Blend of Entertainment News
Thank you for signing up to CinemaBlend. You will receive a verification email shortly.
There was a problem. Please refresh the page and try again.