Spaceship Corporation Building Toward A Fall Steam Release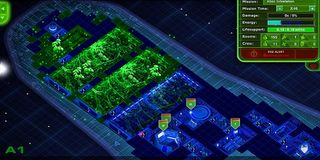 Yet another Steam Greenlight game is barreling toward an actual release, this time taking the form of Coronado Games' Starship Corporation. Publisher Iceberg Interactive announced today that it would be bringing the real-time strategy and spaceship-building game to Steam Early Access, with a launch window set for fall of this year.
"Starship Corporation is a real-time strategy game that boils down to four core elements: Ship Design, Crew and AI Tactics, Ship Building and Trade," reads the official announcement from Iceberg Interactive. "Players create the layout for spaceships and planetary installations with multiple decks within the boundaries of existing fuselages, choose between 50 room types in six categories, and then send their creation on a series of missions to test the crews reaction to emergencies and the ships combat capabilities."
Depending on how well your ship performs on these various missions, the craft will receive a rating. That's important, because those ratings will be used to determine whether or not you can get top dollar for the machine when it comes time to sell it at market. Or, if you've become particularly attached to the vessel, you could always make it a part of your own fleet for running future missions.
If you grew up watching Star Trek and found yourself utterly fascinated by the inner workings of the Enterprise, its crew and their responsibilities, then Starship Corporation sounds like it'll be right up your alley. It also sounds perfect for those who enjoy resource management and tycoon-style games, where your smallest decisions will help craft the success of your corporation through careful design and strategicimplementation.
"Fascinated by science fiction worlds, CEO and founder of Coronado Games, David Murent, set out to create a game where the player is able to design an entire spaceship, with the level editor as an important part of the game," continues the statement from Iceberg. "In Starship Corporation, the player is in control of every part of the ship creation."
Broken down, here's a gander at the various components that make up Starship Corporation. Look for it to hit Steam sometime this fall.
-Ship design: Construct the layout for spaceships and planetary instalattions with multiple decks.
-Crew management: Hire the best pilots, technicians, soldiers and medics to run your ships, then train their AI in order to receive the best performance during missions, emergencies or encounters with enemies.
-Shipyards: More experienced players will want to create ships for their own fleet, or stick to more strict guidelines in order to fulfill a clients order.
-Trade: Buy or sell used and captured ships, set up trade routes or arm warring factions.
-Conflict: What game featuring spaceships would be complete without some sort of combat? In Starship Corporation, sometimes the way to the top is over the smoldering debris of enemy ships.
Your Daily Blend of Entertainment News
Staff Writer for CinemaBlend.