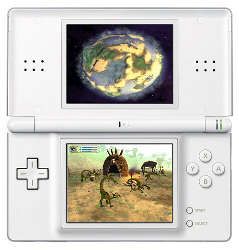 Today EA revealed the release dates for their Wii and DS spin-offs of Spore, Spore Hero and Spore Hero Arena. Both games will be available on October 6th in North America and on October 9th everywhere else.
Spore Hero is an action-adventure game in which a creature must save his planet from destruction. Gameplay is a combination of brawling and puzzles. The Spore Creature Creator is included with the game, allowing you to create a customized hero. You'll collect over 250 new creature parts over the course of the game with their own special abilities. Hero will allow players to duke it out online as well.
In Spore Hero Arena, players control a custom creature in a series of intergalactic gladiator events. As you win events, you'll gain new parts to enhance your fighting skills. Arena supports battles with up to three players locally and head-to-head matches via Wi-Fi.
Your Daily Blend of Entertainment News
Staff Writer at CinemaBlend.