Square Enix: FFXIV Greatly Damaged The Brand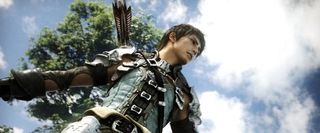 Final Fantasy is Square Enix's best-selling, and arguably most prestigious, game series. However, Square Enix CEO Yoichi Wada said that the series was badly tarnished by the latest installment, Final Fantasy XIV.
"The Final Fantasy brand has been greatly damaged," said Wada at a Tokyo press conference (via Andriasang.
FFXIV is an MMORPG. It takes place in the war-torn region of Eorzea. Players can choose from five character races and four different disciplines. The player's exact role shifts based on what type of gear they've equipped.
The MMO first launched on the PC in September 2010. Many complained that the game was released in an incomplete state, with many bugs and underdeveloped features. It's currently sitting at a 49 Metacritic rating.
In March of this year, Square Enix announced they were reshuffling the development team. They also stated that they were committed to improving the game. In July, Square released Patch 1.18 to tackle many of these issues. However, the planned PS3 version is on hold indefinitely while the development team continues to clean up the PC version.
"We'll continue with our reform work, which basically amounts to fully redoing the game, and hope to revive the FFXIV that should have been released," Wada said today.
In December and January, Square plans to release single-player adventure Final Fantasy XIII-2. Perhaps it will be good enough to rehab Final Fantasy's image.
Staff Writer at CinemaBlend.
Your Daily Blend of Entertainment News
Thank you for signing up to CinemaBlend. You will receive a verification email shortly.
There was a problem. Please refresh the page and try again.