StarCraft II Global Play Announced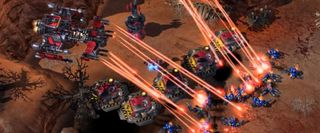 StarCraft II players will soon be able to scour the globe for additional opponents. Blizzard is planning to implement a new Global Play feature for the real-time strategy game sometime within the next few months.
Global Play allows players to access game servers outside of their own region. There's a few advantages to doing this besides eSports. For starters, you can now play with friends who live overseas. You can also download custom maps that haven't been published in your neck of the woods. The best perk, though, is that you'll be able to switch regions and keep playing if your region is down for maintenance.
Your in-game language and UI won't be altered when you switch regions. However, you'll have a completely different profile so all of your rankings, friends lists and other progress won't carry over. Furthermore, you'll have to conform to any policies specific to that region.
Blizzard first implemented Global Play in Diablo 3. The D3 version of Global Play was not accessible by Guest Pass owners or Korean players at Internet Game Rooms. Presumably these restrictions apply to SC2 as well, but we'll have to wait until the official FAQ comes out to be sure.
SC2's first expansion, Heart of the Swarm, is currently in beta. It's expected in the first half of 2013. Perhaps Global Play will debut alongside the expansion?
Staff Writer at CinemaBlend.
Your Daily Blend of Entertainment News
Thank you for signing up to CinemaBlend. You will receive a verification email shortly.
There was a problem. Please refresh the page and try again.