Steam Machine Prototype Screenshots Surface; Will Run Games At 1080p, 60fps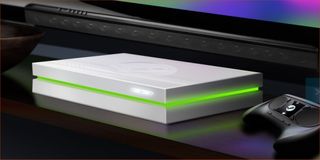 OEM, iBuyPower has unveiled their own vision of Valve's Steam Machines, the computer-based living room solution for high-end gaming without any of the nonsense (or Microsoft's operating system). The screenshots look pretty good, but at the same time you can't help but notice that the iBuyPower's Steam Machine looks a lot like the Xbox One and PS4's albino love-child.
Engadget managed to get their hands on the new shots and they were told by iBuyPower that the systems are designed for high-end gaming, with Engadget paraphrasing...
Whoa, what's this? Confirmed 1080p at 60 frames per second gaming? It's like the sort of thing we've been using for the past half decade. It's good to know that iBuyPower will pack their device with enough power to ensure that gamers will be able to game on par to the way they have been for the past couple of years. I mean, it sure beats 720p at 20fps.
Previously, Valve had released a very rough overview of the spec sheets for the Steam Machines, giving gamers an idea of what to expect from the living room entertainment device. Unfortunately, the pricing seems like it could be pretty wild shot in the dark, with nothing guaranteed or set in stone so far. Nevertheless, anything with a GTX Titan is a system with a price tag just north of $1,500.
On the bright side (and the financially agreeable side) there are going to be various systems designed at different price points to hit each sector of the market. This is ideal for those gamers out there looking to get in on the glorious gaming offered exclusively to the PC Master Race, but don't want to spend an arm and a leg trying to join the big boy's (and girl's) club.
You can check out the screenshots of the Albino PlayStation Box below, with the mid-center glow and mental asylum off-white color scheme. The Steam Machines are scheduled to arrive at retails and will be made available from various online vendors starting early 2014. Hopefully the revolution with the Steam Machines and SteamOS will be enough to topple the Microsoft machine.
Image 1 of 7
Image 2 of 7
Image 3 of 7
Image 4 of 7
Image 5 of 7
Image 6 of 7
Image 7 of 7
Staff Writer at CinemaBlend.
Your Daily Blend of Entertainment News
Thank you for signing up to CinemaBlend. You will receive a verification email shortly.
There was a problem. Please refresh the page and try again.