Steam Machines Shipping On Friday, Beta Test Is U.S. Only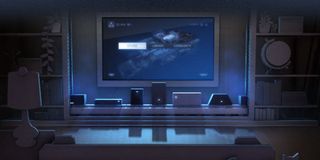 Today Valve announced that they're going to ship out the beta versions of their Steam Machines console and Steam Controllers on Friday. This hardware will arrive in the mailboxes of 300 lucky testers throughout the United States.
Valve began accepting beta applications in September. Since then, hundreds of thousands of gamers signed up for consideration. Unfortunately, many of those testers don't even have a shot. Valve decided against sending beta units outside of the United States.
"We've had to make the difficult decision to limit our beta to the U.S. only, because of regulatory hurdles," Valve said. "This was not our original plan, and it means we can't collect beta feedback from Steam customers world-wide, which is pretty unfortunate. All things considered, we're sure it was the right decision, because the alternative was to delay the whole beta beyond the point when we'd be able to incorporate any feedback into the 2014 products.
They added that this decision only affects the beta. The commercial release of Steam Machines in 2014 won't be affected at all by Valve's choice. More details on the publicly released Steam Units will be announced on January 6th at CES.
Steam Machines are built entirely from off-the-shelf PC parts. Like a PC, they can be upgraded by the user if they wish. The Steam Machines sold in stores will be manufactured by a variety of vendors and range from budget systems to high-end gaming rigs. The prototype units will belong to the latter category. Here are the specs that Valve announced for these beta consoles:
GPU: some units with NVidia Titan, some GTX780, some GTX760, and some GTX660
CPU: some boxes with Intel : i7-4770, some i5-4570, and some i3
RAM: 16GB DDR3-1600 (CPU), 3GB DDR5 (GPU)
Storage: 1TB/8GB Hybrid SSHD
Power Supply: Internal 450w 80Plus Gold
Dimensions: approx. 12 x 12.4 x 2.9 in high
These consoles will run SteamOS, a Linux-based operating system already supported by hundreds of Steam titles. Each beta user will get a few SteamOS-supported titles for their library so they can properly test their system.
The 300 beta testers will be notified at around 2 PM Pacific time. Each will receive a special badge for their Steam Community profile so you can harass them with questions about the hardware.
Valve will release SteamOS publicly when the beta Steam Machines have shipped. However, they recommend you hold off on getting it until 2014 if you're not a seasoned Linux user.
Image 1 of 6
Image 2 of 6
Image 3 of 6
Image 4 of 6
Image 5 of 6
Image 6 of 6
Staff Writer at CinemaBlend.
Your Daily Blend of Entertainment News
Thank you for signing up to CinemaBlend. You will receive a verification email shortly.
There was a problem. Please refresh the page and try again.