SteamBoy Is A Handheld Steam Machine, Coming 2015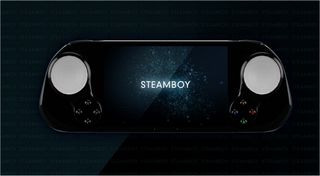 There's a brand new handheld on the way, coming to poke, pry and meddle in the business of the portable gaming market. The name of the device? The SteamBoy Machine.
The Escapist Magazine is reporting that the new device is being made by a group called the SteamBoy Machine team and that the device will offer PC gamers the ability to take their favorite library of PC games with them, on the go. The story originally gained traction on Pocket Gamer but kept picking steam thereafter.
A representative wrote the Escapist to explain where the SteamBoy fits in with the competition, writing...
The SteamBoy will come packed with a quad-core CPU, 4GB of RAM, a 32GB built-in memory card (which means you won't be able to play massive games like Grand Theft Auto IV, V or Max Payne 3), and comes with a 5-inch 16:9 viewing area.
The specs definitely put the rep's quote into better context, and it's something to be expected from a handheld given that you're unlikely to be playing your PC library at 4K on a device where the play area is just barely the size of your hand.
Even still, being able to play games like Crysis, Starbound, DayZ, Rust, Road Redemption or Next Car Game on a handheld would be pretty freaking awesome.
The device contains eight action buttons (four face buttons on the left and four face buttons on the right), four triggers (equivalent to the L1 and R1 bumpers, plus the pressure sensitive triggers), and two buttons on the rear. I'm not sure about the buttons on the rear but I assume they'll work as the 'Start' and 'Select' buttons. The two main analogs are replaced with the haptic feedback pads from Valve's recently delayed Steam controller.
Just like Valve's delayed Steam controller, the SteamBoy handheld device will launch in 2015. This means that you'll need to wait quite some time before you'll be able to play your Steam library on the go. Alternatively, you could check into Nvidia's Shield, but it's just a lot more limited in terms of playability and library support than what the SteamBoy is aiming to offer.
We'll keep you posted on the progress of the SteamBoy Machine team's progress on the device and whether or not it gains the legs and traction to make it to the oh-so-very competitive portable market, which is no easy place to get into, especially when you're a newly put together start-up.
Your Daily Blend of Entertainment News
Staff Writer at CinemaBlend.