New Studio Opens Shop with FASA Licenses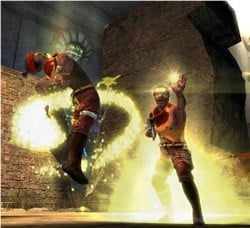 When Microsoft shut down FASA Interactive in September, many feared that the company's many licenses – such as the cyber-punk/fantasy Shadowrun – would be left to rot. However, Jordan Weisman, a former creative director at Microsoft and former founder of FASA Interactive, has recently founded a new studio called Smith & Tinker in Seattle and has repurchased the intellectual properties to FASA's games from Microsoft.
FASA Interactive originally evolved from a tabletop gaming company of the same name (also founded by Weisman), developer of popular pen-and-paper RPG's such as Shadowrun and BattleTech (which became the basis for the MechWarrior games). In addition to the licenses of those two games, Smith & Tinker has also procured the rights for Crimson Skies, the alternate-history aerial combat series.
Information on Smith & Tinker's website is scant. It gives a brief, mysterious overview of the company, which plans to create "connected entertainment products that move seamlessly back and forth from online to offline and immerse the audience in a community of fellow participants from around the world."
You could argue that's just overblown prose. After all, any game with single-player and multiplayer modes fits that description. I expect something more interesting, however, given Weisman's background. One of the other companies he founded in the past was Virtual World Entertainment, a company that created a virtual reality, multiplayer arcade game based on BattleTech. Players would climb into large pods resembling the cockpits of the giant robots from the BattleTech series and do battle with other gamers across the country. A company armed with FASA's imaginative licenses and a willingness to experiment is worth keeping tabs on.
Your Daily Blend of Entertainment News
Staff Writer at CinemaBlend.