TERA Online Official Release Date Set For May 1st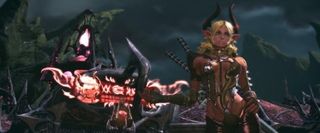 After years, and years and years of waiting, the next-generation of MMOs is finally ready to kick off this year with BlueHole Studios' highly anticipated non-targeting MMORPG, TERA Online. The game is scheduled to go live starting May 1st.
For those of you who don't know, non-targeting refers to the way players engage in combat, spells, healing and other active roles while on the battlefield. Instead of cycling through targets with the 'Tab' key and having your most powerful spell auto-lock onto an enemy and blast them to smithereens, in TERA you'll have to manually use your targeting reticule to attack, heal, repair, buff, block, dodge or demolish opponents. This kind of MMO mechanic really became popularized with devCat's and Nexon's Vindictus which released back in 2009. It helped shape a brand new kind of competitive landscape in the MMO development sphere.
TERA Online plans to take the non-targeting mechanic a step further with even more enhanced non-targeting skills that truly push players in both their response timing and team tactics to the absolute limits.
En Masse Entertainment plans to publish the game in North America for both a digital and retail release. In addition to this a special edition collector's edition will also be available which you can pre-order right now from the Official Website. And remember, TERA Online releases exclusively for PC starting May 1st. Make sure your PC is up-to-date before laying any money down on the game, though.
Staff Writer at CinemaBlend.
Your Daily Blend of Entertainment News
Thank you for signing up to CinemaBlend. You will receive a verification email shortly.
There was a problem. Please refresh the page and try again.