TERA: Rising Free Sleipnir Mount Giveaway (Closed)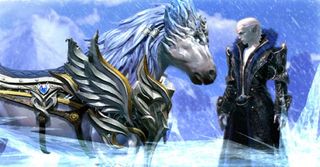 Some of you may have heard about TERA Online going free-to-play last week on February 5th, marking the change from En Masse's subscription-based model to a free-to-play model. In addition to the monetary change, the game's name also made a minor shift and in celebration of all of this, we're giving away a free Sleipnir mount and Arkai masks...some expensive cash shop stuff.
If you don't want to pay for digital goods like anyone else, there's a chance you could win one of these items by leaving a comment or message on our Facebook page. It's really that easy. We'll be giving away one Sleipnir mount and three Arkai masks.
Unfortunately, there's a word count I have to fill out, so instead of leaving the article like this I'll spend approximately two more paragraphs talking TERA: Rising.
The game launched last May as part of a series of new-generation MMOs focusing on high-end visual effects, high-fidelity character designs and non-targeting gameplay. All these hyphenated descriptors helped set the game and several other games in the MMO genre apart from everything else on the market. While a robust political feature, intense boss fights and non-linear fighting all helped give TERA some legs to stand on, it wasn't quite enough to justify a long-lasting subscription-based model.
Nevertheless, the game could potentially seek extended life through the free-to-play medium, which has helped stave off closure for other MMOs such as DC Universe Online, Champions Online and Dungeons & Dragons Online. If the game seems remotely interesting or if the graphics have a modicum of enticement for your visual palate, feel free to grab the game from the Official Website.
Staff Writer at CinemaBlend.
Your Daily Blend of Entertainment News
Thank you for signing up to CinemaBlend. You will receive a verification email shortly.
There was a problem. Please refresh the page and try again.