Tabula Rasa Concept Art And Screenshots Part II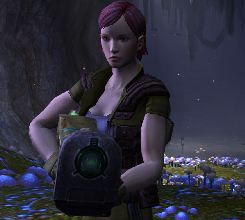 I didn'think this needed a part II until I realized how cool some of the screenshots and concept art was. It was a little too much to all fit into one article, so it was decided to break it down and filter through a second article. Lucky for you, it just means that you can a double-dose of screenshots from a really cool MMO.
Before briefing you on the images below, you might want to check out the NCSoft Signature Character Contest. If you didn't already know, the contest allows you to give a name and a back story to a mystery soldier, solely based on a single image. Role-playing fans should have a blast with the contest.
Now if you could care less about the contest, and the only thing that strikes your gun-hungry thirst is a fresh basket of brand new screenshots of Tabula Rasa, then you've come to the right place. One thing to note is that unlike a lot of other games out there, Tabula Rasa is one of the few games where concept art very, very closely resembles the actual game. Kudos to the art team. It's sort of opposite of the concept art for KillZone 2, which actually looked worse than the actual game. Anyway, you can check out the screens and concept art that was featured at this year's E3 below. Enjoy.
Staff Writer at CinemaBlend.
Your Daily Blend of Entertainment News
Thank you for signing up to CinemaBlend. You will receive a verification email shortly.
There was a problem. Please refresh the page and try again.