Time Polls Users To Include Angry Birds On All-Time Top 100 Video Game List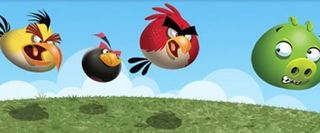 Time Magazine is conducting a poll on their Techland spinoff for their all-time top 100 video game list. There are a ton of notable titles on the list, but one game has sparked quite a bit of debate and that game is Angry Birds.
Right now the poll is split over on Time as to whether Angry Birds should be included on the top 100 list. The defense is that the game was vastly popular and brought in lots of money, and that a lot of non-gamers bought the title because it was popular.
The problem with a game like Angry Birds making the list is that it's not a real game. It's a simple artillery physics simulator with a bird/pig aesthetic. These games have existed since the 1980s and have gone through a number of different names and guises over the years. The most popular artillery title before the advent of Rovio Software's Angry Birds, would probably be Boom Blox, and before that there was Scorched Earth: The Mother of all Games, and before that there was Gorilla.
If we're talking about the innovation of a genre and the ease of use, I might suggest the recent Xbox Kinect title Wreckateer, which actually does a good job of evolving the artillery demolition sub-genre by mixing up the control mechanics and adding a lot of visual representation for the destruction in the process.
Realistically, though, the only thing that separates Angry Birds from every other artillery title is that it's popular in the mainstream. But then again, so is every Call of Duty game, and so was Wii Fit and Wii Sports and Wii Party and those countless fitness/dance games that just keep going out. So, do those deserve a spot, too?
What's interesting is that a decade from now no one will be talking about Call of Duty: Black Ops or Zumba Fitness or Wii Fit. Gamers will be playing real games, and gamers will reference real games from this era, titles that did make a mark or leave an impact that also happen to be playable.
[[ br. br ]] A game that deserves to be on the top 100 is a game that's comparable to other iconic titles on the list that achieved more than a flash-in-the-pan response from audiences. A decade from now we'll still be talking about BioShock and Deus Ex and Hitman and Metal Gear and Gran Turismo and System Shock and Mario, and Age of Empires, ad infinitum.
I don't doubt that Angry Birds will make the top 100 list, but only because it's popular. Innovation, imagination and origination be damned. But then, would that mean every Call of Duty since the original Modern Warfare came out in 2007 should fill out a spot on the list as well? I mean, they're pretty popular, too.
Staff Writer at CinemaBlend.
Your Daily Blend of Entertainment News
Thank you for signing up to CinemaBlend. You will receive a verification email shortly.
There was a problem. Please refresh the page and try again.