Today's Free Game Offers Free Games All Year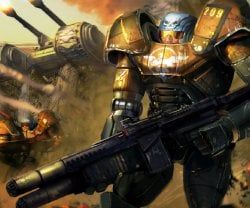 Yeah, that's right, the headline isn't lying. No sensationalism, no trickery, just free games. Every single day of the week, every week of the year and every year on end, a website will give away a free game. Seems unreal doesn't it? Well it's not. Keep reading to find out how to get some free games.
Ryan Rigney from Slapstic writes a recommendation for the up-and-coming website called Today's Free Games. Now I know you're probably thinking that the site offers homebrew, hack-games from a decade ago. Actually, the site is quite the contrary.
Games like Grand Theft Auto and Command & Conquer are up for grabs, legally, for free. Shocking, isn't it? Anyway, you can find out exactly how the website is setup and what it's about by checking out Slapstic's website review. For those of you who just want to jump right into the game downloading, check out Today's Free Game. As always, be sure to stay tuned in with Blend Games for more news and info on all things gaming.
Staff Writer at CinemaBlend.
Your Daily Blend of Entertainment News
Thank you for signing up to CinemaBlend. You will receive a verification email shortly.
There was a problem. Please refresh the page and try again.