Tony Hawk's Pro Skater 5 Looks A Whole Lot Different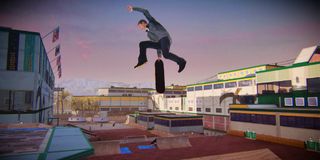 It's been quite a while since many of us actually sat down and played a Tony Hawk game. It looks like Tony Hawk's Pro Skater 5 might not be the best reason to head back into the series, either.
As the game faces a less than two month release date build-up, it looks like the art style, which players had already taken issue with when the game was announced and shown off for the first time, has been changed (thanks, VG247.)
The previous style was a bit cartoony and strange, and fans did not respond well. It appears this feedback was heard, but quite possibly not dissected in a meaningful way. Players checking out the game during Gamescom are discovering developer Robomondo's alterations, and the response isn't positive. The cel-shaded look lends an even sillier cast to the game, overlooking other issues fans made note of with gameplay from the original game showcase, which you can see below.
The new look for the game includes some strange black outlines for the characters themselves, almost as though they've been culled from a large-scale mobile game. In fact, that could be part of the fear here, that Tony Hawk's Pro Skater 5 is going the way of the freemium game, with timers and other free-to-play trappings that no one's going to embrace with open arms, especially given the series' legacy as one of the best arcade-styled skaters out there...at least, when it first debuted. If you look, you can see how low-res the character models actually are in the image below. They're calling forth visions of PlayStation 2 games, and it's not exactly pretty.
There are several changes in store for the game itself, so it's tough to judge how the game is actually going to play, but the art style change could herald some other problems that aren't being publicized. Whatever the issue is, hopefully it doesn't mean that the game will be a failure. As it stands, the game looks pretty strange, and the faces themselves look quite muddy, so this isn't a very positive change for the game. Will it still be including a decent multiplayer mode? Are corners being cut? It's awfully late in the game to be changing up the aesthetics!
Tony Hawk's Pro Skater 5 will be releasing on September 29 for both current and last-gen consoles with PlayStation 4 and Xbox One dropping first, then PlayStation 3 and Xbox 360 versions releasing afterward.
Your Daily Blend of Entertainment News