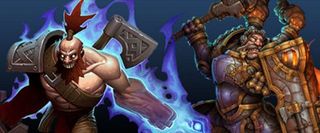 Torchlight 2 was supposed to be released sometime in 2011. However, as you may have guessed from the lack of a firm release date, Runic Games will be missing that deadline. Today Runic co-founder Travis Baldree confirmed the delay.
In a note on the game's website, Baldree stated that they needed to pushed back the game's release so that they could polish it more. They're holding the sequel to a higher standard than the original Torchlight.
"The first Torchlight was released in record time, but it had plenty of issues that a little more development could have resolved," said Baldree. "We didn't have the resources at the time to give Torchlight that treatment. Right at this moment though, we do have those resources for the sequel, and we feel strongly that we should apply them to make this the best game we can make and hopefully one that you'll enjoy and continue to want to play in the future."
"We've probably had 18 months of full development time on it so far - not excessively long yet, as far as that goes. The amount of time we need to take it the rest of the way is relatively small."
Baldree mentioned that they plan to hold a "small" beta before release to make sure the game's launch is smooth. No time estimate was given for the beta or the full game's release.
Fellow action RPG Diablo III will be released in early 2012. Considering the greater name recognition and marketing muscle that game has, releasing Torchlight II at around the same time might not be smart. Still, "early 2012" is a pretty big window - it could mean March, even - so it's still possible T2 will beat Diablo III to stores by a healthy margin.
Staff Writer at CinemaBlend.
Your Daily Blend of Entertainment News
Thank you for signing up to CinemaBlend. You will receive a verification email shortly.
There was a problem. Please refresh the page and try again.