Tropico 4 Expansion Enters Modern Times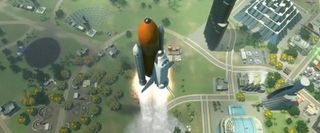 All effective dictators need to change with the times. Tropico 4's upcoming expansion Modern Times challenges players to do just that. It takes the simulation game into the present day and future.
Players will get access to 30 new buildings over time. Condos, skyscrapers, organic ranches and biofarms are just a few examples of the structures at your disposal. You'll also be able to modernize older buildings. You'll have 10 new presidential edicts at your disposal as well that allow you to block the internet or, if you're feeling nice, host a Festival of Love.
The expansion's single-player campaigns includes 12 missions. These missions will task you with protecting your island nation from "unseen and sinister forces." A New World Order and terrorists are just a couple examples
Modern Times is priced at 1200 MS Points, or $15. The downloadable expansion will be available for Xbox 360 and PC in March.
Staff Writer at CinemaBlend.
Your Daily Blend of Entertainment News
Thank you for signing up to CinemaBlend. You will receive a verification email shortly.
There was a problem. Please refresh the page and try again.