Uforia Makes Nostale A North American Affair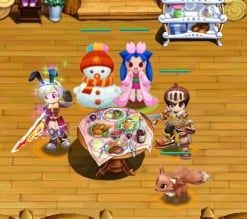 North American MMO publisher and game portal owner, Uforia, has recently announced that they are now offering free-to-play MMORPG, Nostale on their website. The game was extremely popular at one time before running into a little financial trouble. But all is well (for the most part) as the game is being revived for North American availability.
"We are thrilled to be able to bring Nostale: Global to the North American market," said JK Kim, CEO of Uforia. "Nostale is a unique MMORPG with easy-to-access events which allow players to interact with other players in PvP and survival objectives. We are thrilled and honored that this is our first title as a newly formed publisher."
Let's hope the cash-shop balances out the network costs, otherwise the game (and Uforia) could be another unfortunate victim of the crummy economy. Still, Nostale, being that it's free, has a great opportunity to cash in on the massively popular MMO market.
The game features easy-to-learn gameplay functions, a pet capturing system, special character progression sets, and comic-book styled character designs. You can learn more about Nostale by visiting the Official Uforia Website. And be sure to stay tuned in with Blend Games for further updates on the latest MMOs and upcoming game titles.
Image 1 of 5
Staff Writer at CinemaBlend.