A Valley Without Wind 2 Early Access Deals Roll Out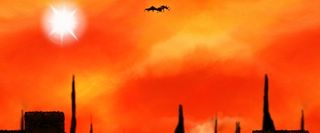 Arcen Games wants everyone to know about their rocking new sequel to A Valley Without Wind, the platforming action game that took the indie community by storm. The second game is currently on sale during Steam's holiday sale and if you already own the first game you're eligible for getting the second game for free.
The retroactive sale is also applicable to the reverse. In simple terms, if you buy or pre-purchase A Valley Without Wind 2 during this promotional period you're already keyed in to get the original game for free. Awesome, eh?
The story for the sequel takes a slightly different approach to the hostile and intriguing world present in the first game, as stated in the press release...
The original Valley Without Wind didn't hit the market without a few critical detractors. The game did have some issues, namely with difficulty and polish. I imagine Arcen Games will address these issues first and foremost for the sequel.
If you're interested in cashing in on the deal and getting the bundle pack of both games for 60% off, be sure to pay a visit to the official Steam page to learn more.
Staff Writer at CinemaBlend.
Your Daily Blend of Entertainment News
Thank you for signing up to CinemaBlend. You will receive a verification email shortly.
There was a problem. Please refresh the page and try again.