Valve Responds To VZBV Regarding Consumer Rights, Terms Of Service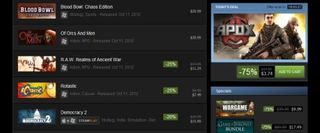 There's some good news and some bad news. The good news is that it appears Valve has responded to the Federation of German Consumer Organizations and it was good enough to stave off court proceedings, for now. The bad news is that neither group was forthcoming about what sort of response Valve gave to keep the lawsuit at bay and we won't find out until the end of October.
A few weeks ago we reported on Valve getting slammed by the Verbraucherzentrale Bundesverband e.V., also known simply as the vzbv. In the desist declaration The vzbv wanted Valve to alter their terms of service so that gamers would not lose access to their library of games if they decided to decline agreeing to the new subscriber agreement that went into effect back in August, and they also wanted Valve to adhere to the new EU ruling regarding digital resale, which is currently unavailable from most major digital retailers, save for Greenman Gaming.
When inquiring of what was happening between the groups, we were told that Valve had been given an extended deadline from September 26th to October 10th to respond before the vzbv would pursue legal action.
In a followup request to find out what was going on, we were notified by Eva Hoffschulte, a representative of the Verbraucherzentrale Bundesverband e.V., that Valve has indeed responded, saying...
It kind of sounds like there's a lot of procrastination going on. Prying Valve's PR and the vzbv for what the game developer and digital retailer actually had to say in regards to the charges led to a dead-end, as neither revealed specifically what Valve said in response.
I imagine Valve would probably aim to drag this out for as long as they can until it either goes away and everyone forgets or until they can come up with a patch to enable users to access games from their library they already paid for without having to agreeing to any new terms of service or end user license agreements.
Valve's director of business development, Jason Holtman, already admitted to PCGamesN back in July that the company had no plans to administer the tools or means to allow Steam users to resale digital goods.
We'll keep you posted on any additional developments regarding Valve and their battle with the Federation of German Consumer Organizations.
Staff Writer at CinemaBlend.
Your Daily Blend of Entertainment News
Thank you for signing up to CinemaBlend. You will receive a verification email shortly.
There was a problem. Please refresh the page and try again.