Velvet Assassin Outfits And Nighties Revealed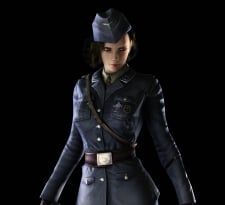 The female assassin that's seeking to replace the likes of Sam Fisher has very little known about her. However, in an attempt to help gamers get better acquainted with Violette, Replay Studios has released some new images of the spy in some of her outfits.
Like IO Interactive's Hitman, Violette can snag new outfits to better blend with her environment. Some of the outfits include a pilot's uniform, a leather sneaking suit that works well with dark areas and shadows, a Nazi uniform to infiltrate enemy ranks unnoticed, and a night dress. The explanation for why Violette wears the night dress is a bit confusing but it's more or less an excuse for fan-service. Really.
You can check out the images of the different outfits below. Velvet Assassin is due out for the PC and Xbox 360 early in 2009, for more info on the game you can visit the Official Velvet Assassin Website. For all your other gaming needs be sure to stay tuned in with Blend Games.
Image 1 of 4
Your Daily Blend of Entertainment News
Staff Writer at CinemaBlend.