War Thunder Soars Onto OnLive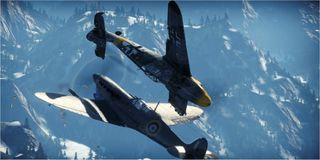 OnLive is set to become a battlefield as Gaijin Entertainment announces the launch of War Thunder on the game streaming service, offering up free-to-play plane and tank combat for all to enjoy.
It's been a while since we've heard much coming out of the OnLive camp. Today, though, they're making headlines with a new game announcement, one which will finally bring free-to-play warfare on a massive scale to all of its customers. For those interested in playing, War Thunder has officially been added to the streaming service through CloudLift, "a new subscription model allowing fans to instantly access high end PC games anywhere using a wide array of connected devices, including mobile," according to the official statement from OnLive.
"OnLive's CloudLift service allows War Thunder fans to take their gaming with them on their connected mobile devices," said Gaijin CEO Anton Yudintsev. "There is no sacrifice of gameplay. From your connected device, you will get the same award-winning War Thunder experience you would at home sitting in front of your personal rig."
To keep things nice and simple, all progress and purchases instantly sync with your account, meaning you can play on your computer, pick up another round on your mobile device later, then hop back onto the computer as if you've been playing on one device the entire time. This is, in essence, the "streaming dream" for gaming. Your device doesn't need to be a powerhouse, it just needs to have a decent connection in order to play the game from a server that has all of the computing muscle you could ever need. As the technology progresses, some say this could very well be the true future of gaming. No need to buy physical or even download the game. Just buy it and get to streaming from whichever device you like. There are cons that come with those pros, of course, but that's a discussion for another day.
For those unfamiliar with War Thunder itself, the game now boasts a player community of more than 6 million fighters jumping into WWII-era planes to wage war, with tanks currently rolling out in stages.
While War Thunder is free-to-play, OnLive users still need to have a CloudLift subscription to play the game, which goes for $7.95 per month. Other than that, you can then play the game from a wide array of devices, including laptops, TVs and Android tablets with a Bluetooth controller.
For more details on the game, visit the War Thunder official website.
Staff Writer for CinemaBlend.
Your Daily Blend of Entertainment News
Thank you for signing up to CinemaBlend. You will receive a verification email shortly.
There was a problem. Please refresh the page and try again.