The War Z Will Support Friends List, Clan Battles, Instanced Strongholds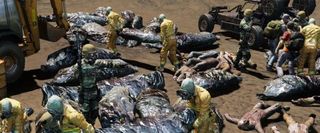 Hammerpoint Interactive's upcoming MMO zombie-survival, action game The War Z is constantly being compared to the current king of the post-apocalyptic, hard-as-nails zombie-survival title, DayZ. Well, one of the highlights of The War Z happens to be the social aspects, including the ability to add players to a friends list, as well as form groups and battle clans.
One of the biggest complaints about DayZ outside of the bugs and glitches is the lack of a social structure. Some gamers have defended this in the way that lacking social features makes the experience more visceral, natural, unpredictable and tense. Others have claimed that they would at least like to be able to form guilds, work together and have a bit more organization socially.
With Hammerpoint Interactive's The War Z, the open-world action MMO will launch with social features right from the start. How well the game will handle these features is a whole other story, but according to Hammerpoint representative Alex Josef...
The community construction feature is something that has been become somewhat of a staple for these new zombie survival games. Microsoft Games' State of Decay will support construction kits and the supposed retail release of DayZ coming out this fall is said to have instanced base construction as well.
However, The War Z seems to be the first of the bunch to make it known that the construction kits will be tied directly into some of the social and clan features, which sounds very promising, especially when you consider that the game will sport up to several hundred zombies on-screen at a time. You're definitely going to need friends with those kind of numbers.
One thing is for sure, it looks like the post-apocalyptic, zombie-survival genre is getting some stiff competition and fans will have a lot to look forward to when these games finally release.
You can check out more of the features by paying a visit to The War Z's Official Website.
Your Daily Blend of Entertainment News
Staff Writer at CinemaBlend.