Warface: CryEngine 3 FPS Pre-Alpha Gameplay Video Released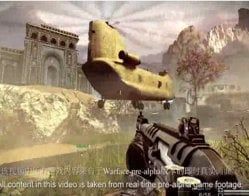 Crytek's upcoming multiplayer first-person shooter, which was announced back in November, has received its very first debut trailer and it's all in-game footage. Now before you start making the comparisons to Crytek's other leading first-person shooter, Crysis, or in all likelihood, Call of Duty: Black Ops, keep in mind that all of the following footage for Warface is entirely realtime and pre-alpha.
That's right, this is pre-alpha gameplay footage and while I'm usually not convinced that the graphics would change all too much for a game like this during the pre-alpha stage, there's still a lot that can be done before it's released, usually with shaders and lighting techniques.
Anyway, enjoy the pre-alpha footage below and try not to get too much drool on the page, we just cleaned things up around here. You can learn more about Warface by visiting the Official Website.
Staff Writer at CinemaBlend.
Your Daily Blend of Entertainment News
Thank you for signing up to CinemaBlend. You will receive a verification email shortly.
There was a problem. Please refresh the page and try again.