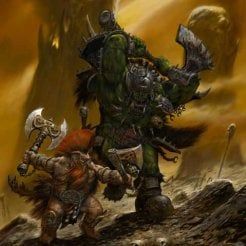 Warhammer Online: Age of Reckoning is about to get its first expansion. The so-called "Call to Arms" expansion isn't something you'll buy in stores, though - it's a batch of new content that will be rolled out over the course of three months.
Along with the press release announcing the expansion, EA provided a release schedule for the new content. Among the additions are two new character classes and a Realm vs. Realm PVP scenario:
'Call to Arms: Bitter Rivals' Live Event (March): Successful completion allows head start access to the new Orc Choppa and Dwarf Slayer careers. The event will also include the new Chaos-themed RvR Scenario, Twisting Tower.
Two New Careers Join WAR (March): The Orc Choppa and Dwarf Slayer answer the Call to Arms.
'Call to Arms: Beyond the Sands' Live Event (April): Details to be revealed soon!
'Call to Arms: Rise of the Tomb Kings' Live Event (May): The race between Order and Destruction players begins to unlock the Land of the Dead for their Realm.
'Land of the Dead' Opens (June): The deserts of Nehekhara open to players with the addition of a new RvR-gated dungeon zone. To gain access to the Land of the Dead, opposing Realms must battle for control of the zone to access dozens of new Public Quests, instanced lairs, and a massive new Tomb Kings dungeon to plunder in search of the Casket of Souls.
The press releases also notes that "a new free trial version of the game" is in the works as well. WAR launched back on September 18th and can be purchased digitally through Steam or, you know, at a store.
Your Daily Blend of Entertainment News
Staff Writer at CinemaBlend.