Wasteland Angel Demo Now Available For Wasteland Gamers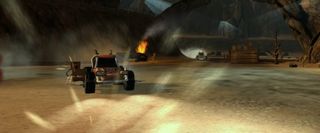 The isometric, old-school, arcade-style, combat-racing PC game, Wasteland Angel, recently released on Labor Day weekend. To help promote the new indie title, the devs announced that a brand new demo is currently available to download…for free.
Wasteland Angel is designed in the same vein of those old late 90s arcade racers on PC, a little like Re-volt, Redline, Quarantine, Twisted Metal and Death Race. The game sports fast-and-furious, off-the-wall vehicular combat action and plenty of explosions, guns and more explosions.
The new demo puts players in the position of guarding the last survivors of World War III in the city known as Highwall. Using a nice cache of high-end weapons, players will take down spiked tractors, armored carrier vehicles and even evil school buses.
There are a total of four stages available in the demo, including three tutorial stages and one mission stage that contains four levels and a boss fight. Additional updates has also been made to the game, including dual-monitor support, configurable keys, and a few extra destroyable objects within the game.
You can find out more about Wasteland Angel or grab the demo by paying a visit to the Official Website.
Staff Writer at CinemaBlend.
Your Daily Blend of Entertainment News
Thank you for signing up to CinemaBlend. You will receive a verification email shortly.
There was a problem. Please refresh the page and try again.