We Won't Be Seeing Destiny 2 This Year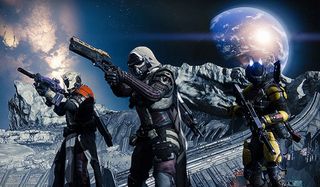 The future of Destiny remains hazy, but it sounds like we can rest assured about one major route along the road ahead: It doesn't sound like Destiny 2 is coming this year.
According to a report from Kotaku, folks who are connected to the development of Destiny have made it known that a sequel to Bungie's massive shooter is not coming anytime soon. If you've been following the rumors and speculation attached to the Destiny universe these past several months, you'll know that a Destiny 2 launch in September was a part of the original plan.
You'll notice that we're being careful here not to say that Destiny 2 has been delayed. That's an intentional choice, as we feel it's important to be clear about what has and has not been announced pertaining to that particular game. It wouldn't be fair to Bungie to say that they've decided to push back their next title, especially since said next title has not actually been announced and the delay information is coming from unnamed sources. Is it entirely possible that Bungie had hoped to launch Destiny 2 in September and, according to folks working on the game, that is no longer the case? Absolutely. But again, it's hard to ping Bungie for "delaying" a game they haven't even announced.
So why are we being so careful about our wording here? Because the road ahead for Destiny is currently nebulous at best, and we don't want to create more confusion by not being accurate. This isn't giving Bungie a free pass, either. We absolutely agree that they need to be a bit more open with their plans so that rumors like this don't get started, and the fact that said information isn't available because Bungie isn't sure what's coming next is more than a little worrisome.
For starters, all of this hubbub about the grand plan for Destiny comes from documents that were created in 2012, long before the first game even launched. Bungie has been very open about the fact that Destiny has undergone a huge evolution in its development, and I think it's safe to say that they spent the first year post-launch figuring out what exactly the game was.
As pointed out in the Kotaku report, the big issue is that, during the first year, we knew exactly what was coming down the road for Destiny. We knew that three big expansions were en route and, between them, regular smaller events would help keep things fresh.
The last we've heard for year two in Destiny is that DLC content was being worked out of the equation, with more meaty side events like the Festival of the Lost and Sparrow Racing League filling the gaps. It's great that they're still adding content, but that's not what series fans have grown to expect.
Here's hoping that all of this confusion and claims of Destiny 2 being "delayed" will open Bungie and Activision's eyes to the fact that they've got a massive audience that just wants to know what they can expect out of the series in the coming months.
Your Daily Blend of Entertainment News
Staff Writer for CinemaBlend.