Weekly Recap Oct 19th: Driveclub And Watch Dogs Delayed, Wii U Goes 1080p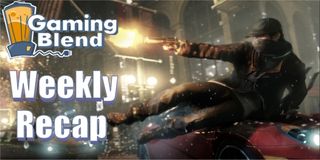 Two big games have been delayed this week. Ubisoft's hotly anticipated Watch Dogs was pulled from the fall line-up this year and pushed back to a spring 2014 release. The very troubled PS4 exclusive, Driveclub, was also hit with the delay hammer. To make up for the bad news Activision announced an Amazing Spider-Man 2 game... assuming movie-based games are considered good news. Also, the Wii U kicks back into action with a massive sales boost and showcasing an affinity toward more native 1080p, 60fps games than the PS4 and Xbox One. These stories and more in this October 19th edition of the Gaming Blend Weekly Recap.
Sunday
Universum: Warfront Combines Every Action Genre Into One It's like the ultimate super-action game all rolled into one buttery mega-3D action experience. Check out the video to see just how epic this game is.
Batman Arkham Origins Mobile Game Announced A new mobile rendition of Arkham Origins is on the way.
Marvel Pinball: Zen Pinball 2 Gets Doctor Strange Table in December New tables are inbound for the indie pinball game that just keeps on giving back.
AMD Paid Up to $8 Million For Battelfield 4 Exclusivity AMD didn't get to where they are without a little pocket padding. They paid a hefty sum to EA for some Battlefield 4 exclusivity.
Skylanders Swap Force Now Available Activision has unleashed the latest in their Skylanders series.
Gamers, You Win: Total War Rome 2 Patched To Fix Every major Fail Creative Assembly put together their honor code and pulled up their breeches. They're in it to win your favor, not your hate.
State of Decay George Romero Mod Announced This is a sleek new mod for Undead Studios' State of Decay and it adds some much-needed excitement to the game.
Monday
SOMA Is Amnesia Developer's Sci-Fi Horror Game Joining the likes of Routine as a new generation sci-fi horror title, Frictional Games' SOMA aims to push boundaries and soil panties along the way.
God of War: Ascension Goes Digital With Multiplayer DLC New characters and extra content roll out for the PS3 exclusive, God of War: Ascension.
Beyond: Two Souls Leak Fetaures Nude Ellen Page You can see Miss Page in her unmentionables thanks to some pesky PS3 debuggers.
Amazing Spider-Man 2 Game Announced And it's coming to next-gen consoles, too.
Crytek Defends Ryse For Xbox One, Says It's Not Just A QTE Game Well, when you play it you can decide for yourself if this is true or not.
F1 2013 Vs Project CARS: Side By Side Graphics Comparison See how the two racing titles measure up graphically with each other.
Wii U Sales Surge by 685% Thanks to Wind Waker HD The bundle has done the Wii U wonders and the Big 'N' is now back in the race to win it.
Kingdom Hearts HD 2.5 Officially Announced For PS3 Square Enix has gone and done it, making the latest HD Kingdom Hearts a palatable software option for PlayStation owners.
Tuesday
Walking Dead Season 2 Details Coming This Month In addition to more details there's also a GOTY Edition planned, which is going to be a must-buy for anyone who wanted to get in on the action but didn't know where to start.
Skyjacker Lands on Greenlight, Seeks Kickstarter Funds A new open-world space-pirate game has arrived on Kickstarter and Steam's Greenlight.
League of Legends Supremacy Card Game Outed By Hacker Riot Games is supposedly working on a new game that was leaked by a pesky little hacker doing his hacker thing.
Insider Claims Xbox One Has Reliability Issues A lone anonymous developer has come to the aid of the Xbox One, stating that "CBOAT" is off his rudder.
Pokemon: My First Day With The Series Gaming Blend's Ryan Winslett talks about his first day on the job in Saffron City.
Galactic Civilizations 3 Is A 64-Bit PC Exclusive The tides are turning and the games are growing... check out the latest game to break boundaries on the side of the GPCMR.
Storm The Gates Brings CCG Table Top RPG To Kickstarter
Pokemon X & Y Sales Hit 4 Million And Nintendo is dying? Pfft.
Watch Dogs Delayed to 2014 One of the biggest games of the year is pushed back to a more airy spring date of 2014.
Wednesday
Valhalla Knights 3 Review: Far From Heaven it's not looking good for this PSV title as Gaming Blend's Ryan Winslett breaks down the carnage.
Wii U Has More Next-Gen 1080p 60fps Games Than Xbox One, PS4 You may not like it, but you better believe it.
Deep Silver Needs Troll-Resistant Community Manager For Dead Island Epidemic There's a job opening, and trolls will make up for a large part of it. Are you in?
Delta Six Realistic Gun Controller Gets Support For PS4, Xbox One The controller will be compatible with last gen and the new gen gaming consoles... and it looks real!
Battlefield 4 Beta Ends, DICE Rolls out new Details Find out what kind of changes the team is implementing for the FPS.
Ubisoft Shares Dive As Splinter Cell, Rayman Fail To Meet Sales Goals
World of Warcraft Adds Cataclysm Expansion for Free Blizzard's MMO will hand out free expansions to keep the bleeding from running too far south.
Crytek Admits Microsoft Had To Rewrite Xbox One Code to Run Software More trouble in the Xbox One camp.
Thursday
Nintendo 3DS Gets Hulu Plus Streaming App Nintendo continues to branch out their media support for their handheld with Hulu Plus support.
Batman Arkham City Switching From GFWL To Steamworks Finally. The curse of GFWL is starting to dwindle... only, it's not dwindling fast enough.
Diablo 3 Reaper of Souls Coming to PS4 Blizzard isn't done with Diablo 3 and the game will get a brand new expansion on the PS4.
Batman Arkham Origins Mobile Game Hits App Store The new game lands on the app store offering core gamers a high quality mobile outing.
Assassin's Creed 4 Had Over 900 People Working on the Game That's just 100 people south of 1,000 heads. Insane or what?
Heroes of the Storm Is Blizzard's All-Stars Title Well, how many people saw this coming?
Mutant Football League Kickstarter Campaign Fails A high asking price and not enough interest caused this Kickstarter to fall flat by the wayside.
Infamous Second Son Collector's Edition and Limited Edition Includes Cole DLC You have got to love pre-release DLC announcements.
Friday
Hot Tin Roof, CastleMiner Z and 35 Other Games Greenlit Valve gets serious about approving Greenlight titles, with 37 new games arriving this month.
Killzone Mercenary Gets Tweaks, Improved Spawn Points Updated Guerrilla Games continues to roll out updates and fixes for the Vita shooter.
Deus Ex and Hometown Story Headline Weekly Nintendo Releases Some hard hitting titles arrive on Nintendo's eShop.
GTA V Optimizations Found in AMD Catalyst Drivers Even more hints, more info and more clues linking to GTA V coming out for PC.
Battlefield 4 Unlocks and Battlepacks Outlined by DICE Details on the packs are detailed with additional info from DICE.
AMD R9 290X Destroys GTX 780 in 4K Benchmarks AMD released benchmarks for the 290X and it actually beats the 780 in 4K tests.
GTA Online Title Update Released, Free Cash Coming Next Week Rockstar is continuing to update GTA Online and roll out content for the game.
DriveClub Delayed for the PS4, Contrast Fills The Spot More said news for those of you who pre-ordered the PS4 with DriveClub... the game has been delayed.
Grand Theft Auto V Co-op Review So well does the game work as a cooperative experience? Co-Optimus breaks it down for you.
In PlayStation Plus We Trust The October 15th, 2013 edition of all things PlayStation Plus, courtesy of Stick Skills.
Saturday
Mirror's Edge, Battlefront Could Take A Different Format, Hints DICE What kind of format? Well, you'll have to click the link to find out what they're talking about.
Remembering The Current Gen Games You Already Forgot... Remember Me? Nah, I think it's worth forgeting.
Shuhei Yoshida On Playing One PS4 Game on 2 Systems Find out what Yoshida has to say about dual-play sessions on a single disc.
Super Motherload Unearths New PS4 Trailer Check out this indie title's PS4 trailer.
This is the Most Awkward Momen in Nvidia's Montreal Event Guess what a fan asked the Nvidia panel? I'll give you a hint... it starts with Mantle. Dra-maaaa!
That wraps up this edition of the Gaming Blend Weekly Recap, which seemed a little more jam-packed than usual. Anyway, check out a new trailer for Forza Motorsport 5 featuring the Hypercar League. Enjoy.
Staff Writer at CinemaBlend.
Your Daily Blend of Entertainment News
Thank you for signing up to CinemaBlend. You will receive a verification email shortly.
There was a problem. Please refresh the page and try again.