World In Conflict: Soviet Assault Now Available On GamersGate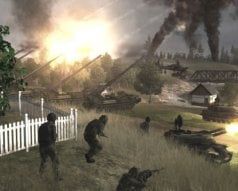 When a launch trailer hits the press circuit then it's just a confirmation that the game has launched. It's a reminder mostly for games that can be forgotten amongst the herd of hype for triple-A titles. So just as an extra reminder to all you gamers out there who didn't know WiC: Soviet Assault was available…WiC: Soviet Assault is now available.
For those of you who don't know what all the deserved-praise is surrounding World in Conflict, simply know that…"World in Conflict: Soviet Assault presents a chillingly authentic Cold War scenario where the Berlin Wall never fell. Created by Cold War authority and best-selling author Larry Bond, the story begins in 1989 as the Soviets, fearing certain collapse, boldly advance into Europe. NATO responds in force only to be met on a second front - a full-fledged invasion of the American homeland."
I could not have said it better myself. Then again, it's not my game, so there's no way I could have said it better myself. Anyway, like the headline states – World in Conflict: Soviet Assault is currently available for purchase on GamersGate for the low, low price of $19.95. Seems like an unlawful steal if you ask me…that's bargain bin pricing for a game that's going down in history as a classic. Oh well, I guess that makes it even better for GamersGate gamers.
Featuring multiplayer battles, strategic unit control and some of the most impressive destructible 3D maps featured in an RTS, World in Conflict is a true landmark for both unique and original war-based storytelling and intense, RTS combat. You can learn more by visiting the Official GamersGate Website. For more gaming news, updates and info, be sure to stay tuned in with Blend Games.
Your Daily Blend of Entertainment News
Staff Writer at CinemaBlend.